I've had this fanmix stuck in my head for a while, and so now that
not_a_mused and
minnesota_teen have finally taken that break-up plunge over at
fandomhigh, I went ahead and made it! It follows the slow progression of their friendship into a relationship and then (hopefully) back again.

And may I also mention that could there be a more perfect song than the last one? I THINK NOT.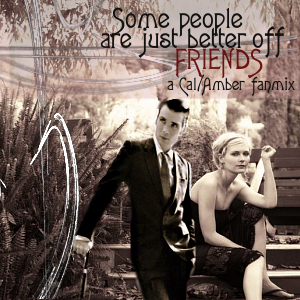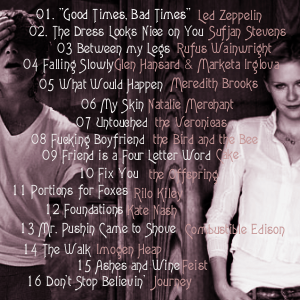 01 Good Times, Bad Times Led Zeppelin
In the days of my youth, I was told what it means to be a man,
Now I've reached that age, I've tried to do all those things the best I can.

02 The Dress Looks Nice On You Sufjan Stevens
I can see a lot of life in you.
I can see a lot of bright in you.
And I think the dress looks nice on you.

03 Between my Legs Rufus Wainwright
Again, I'm afraid of one thing.
Will I walk away from love knowing nothing, wearing my heart between my legs?

04 Falling Slowly Glen Hansard & Marketa Irglova
You have suffered enough, and warred with yourself; it's time that you won.

05What Would Happen Meredith Brooks
Will I pretend I'm innocent?
What would happen if we kissed?
Would your tongue slip past my lips?
Would you run away?
Would you stay?
Or would I melt into you?

06 My Skin Natalie Merchant
Take a look at my body ; look at my hands.
There's so much here that I don't understand.

07 Untouched the Veronicas
'Cause right now you're the only thing that's making any sense to me,
And I don't give a damn what they say, what they think, think.
'Cause you're the only one who's on my mind
I'll never. ever let you leave me
I'll try to stop time for ever, never wanna hear you say goodbye (bye bye bye)

I feel so untouched a nd I want you so much that I just can't resist you.

08 Fucking Boyfriend
When you lay down with me you never slept that night.
Are you working up to something? But you give me almost nothing.
Keep me hopeless, up to something on my knees
Would you ever be my, would you be my fucking boyfriend?

09 Friend is a Four Letter Word Cake
To me, coming from you, friend is a four letter word.
End is the only part of the word that I heard.

10 Fix You the Offspring
I wish I could fix you and make you how I want you.
I wish I could fix you and I wish you could fix me.


11 Portions for Foxes Rilo Kiley
There's blood in my mouth 'cause I've been biting my tongue all week
I keep on talkin' trash but I never say anything
And the talkin' leads to touchin'
and the touchin' leads to sex
and then there is no mystery left

And It's bad news
Baby I'm bad news
I'm just bad news, bad news, bad news

12 Foundations Kate Nash
Yes, it was childish and you got aggressive,
and I must admit that I was a bit scared,
but it gives me thrills to wind you up.

13 Mr. Pushin Came to Shove Combustible Einstein
(Instrumental)

12 The Walk Imogen Heap
It's not meant to be like this, not what I planned at all,
I don't want to feel like this, Yeah,
No it's not meant to be like this, not what I planned at all,
I don't want to feel like this, so that makes it all your fault.

13 Ashes and Wine Feist
Don't know what to do anymore
I've lost the only love worth fighting for
I'll drown in my tear storming sea
That would show you, that would make you hurt like me

All the same
I don't want mudslinging games
It's such a shame
To let you walk away

14 Don't Stop Believin' Journey
Just a small town girl
Living in a lonely world.
She took the midnight train going anywhere.
Just a city boy,
Born and raised in south Detroit
He took the midnight train going anywhere.

DOWNLOAD: HERE



Comments are love, of course!